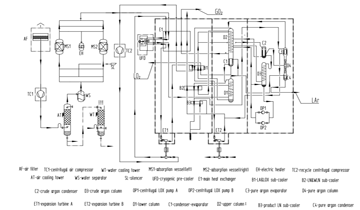 After impurity removal, air is taken by compressor and compressed to ~1.1MPa. After cooling down, harmful components, such as moisture, CO2, C2H2 are removed by purifying system.
After purification, compressed air is cooled down by the main heat exchanger and cold refrigerator, and sent to rectification column for rectification. Through sub-cooler, liquid air, liquid waste nitrogen and liquid pure nitrogen are sent to upper column for secondary rectification. In upper column, liquid oxygen at 99.6% is obtained at bottom, which is delivered out of cold box via sub-cooling as product.
Waste nitrogen is drawn from top of upper column. Through heat exchanger, it is expanded to provide coldness to the whole system. After warming up, it is delivered out of cold box and divided into 2 streams. First stream goes to purifying system for regeneration of molecular sieve. Second stream is delivered to pre-cooling system to cool down the cooling water.
While third stream of waste nitrogen delivered out of cold box is compressed by recycle compressor and booster of turbine. Afterwards, it goes into cold box and is cooled down by heat exchanger. Cool gas is expanded subsequently to supply coldness to whole system. After expansion, it is warmed up in heat exchanger and goes for another round of circulation.
The production of argon works on hydrogen-free rectification process specified as following described: Liquid argon fraction is drawn out from the upper column into crude argon column and pure argon column, where liquid argon product is got through rectification.