Designing Ability
XAL has owned full-set advanced office facilities and many kinds of advanced designing software. Through computer network we have established the design information control system and fully realized the collaborative design and business management with computer. XLA utilize factory 3-D piping design software to realize 1:1 layout and piping for real engineering and make stress analysis for single equipment, pipeline and structure. Through development for more than 20 years, XLA has grown into the pioneer of design and manufacture of cryogenic separation technology in China. XLA has been granted Certificate of ISO9001: 2008, ASME Certificate of Authorization, NB Certificate of Authorization and U steel stamp, etc, international qualification certificates and CE product certificate.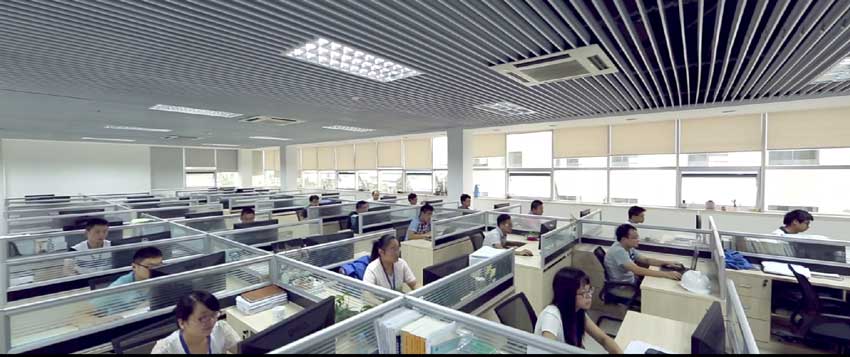 R&D ability
XLA is the New and High-tech Enterprise in Jiangsu province. XLA has set up Cryogenic Engineering Technology Research Center of Jiangsu province and national level postdoctoral center to enhance original innovation of technology. During these years, XAL actively put into design and research on new products, such as recovery of chemical off gas(recovery off gas of synthetic ammonia, recovery and purification of helium, high-purity gas plant and etc), recycle utilizing of energy, collection and emission of CO2, scale production of electronic high purity gas, purification and liquefaction plant of natural gas, research on purifying craft of rare gas and have been transformed into relative products, which got high reputation from our customers and enlarge our company' product variation, keep our strong competitiveness in air separation field.
Quantities of air separation patent
XAL has been granted 35 items of "invention patent" and 22 items of "Utility model patent".
Process package design
Through more than 20 years' accumulation and instant invention, XAL has researched and developed unique craft in fields like air separation, off gas recovery and natural gas liquefaction. Having give brith to: 1. gas air separation plant, for example, air separation plant with output more than 1000Nm3/h has realized hydrogen-free argon rectification process; 2. liquid air separation plant, such as low pressure&middle pressure liquid air separation process; 3. On the part of natural gas purification and liquefaction, we adopts the natural gas liquefaction process of full-dried method plus new type nitrogen recycling expansion turbine refrigeration, which has big advantage in energy-saving, emission-reducing and investment. It not only produces the invention patent of craft process but also get the place of Suzhou technology supporting plan, high-tech products in Jiangsu province and national high-tech product. 4. on the part of recovery of chemical off gas, we have eliminated insufficient part of traditional craft in off gas recovery of synthetic ammonia, purification of rare gas(such as helium recovery and purification) and has generated many invention patents of process craft .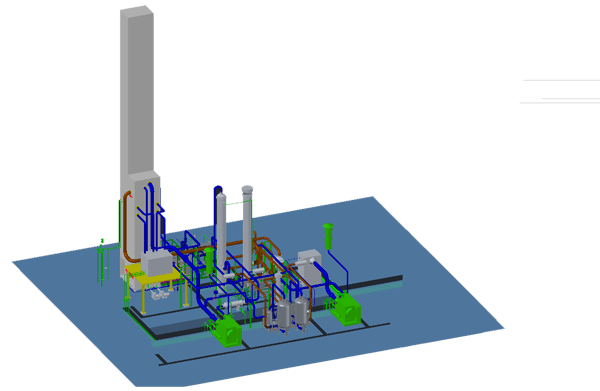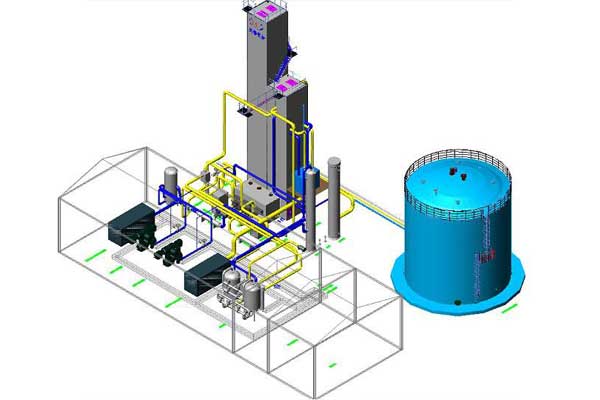 Plant Three-Dimensional Piping
Our company has established a complete data base of valve, pipe, bracket and etc, conducting engineering design on basis of managerial experience and engineering design which are long-term accumulated. Our company has won customers' full trust and high evaluation as well as good reputation in the domestic and foreign market because of our well-designed project, high efficiency, short period of generating drawings and excellent after-sales service.
Engineering Design
Generally, our company carries out primary equipment layout according to technical proposal, the places offered by our customers, natural climate conditions and other requests. After the completion of technological process and equipment design, we will start overall design combining three-dimensional piping.
Skid Mounted Modularity Design
According to customers' requirements, conditions of shipment and installation, our company can design skid-mounted with high integration. The skid-mounted series covers pre-cooling system, purifying system, pre-cooling purifying system, expander skid-mounted, control system and etc. For oxygen generating plant whose output is more than 15000Nm3 /h, our company can deliver vessels inside cold box and their pipelines together in skid and connect them to the cold box on the job site, while common company can only assemble on site.
Customized Product Design
Through full communication with customers, we know our customers' requirement, then make differentiation analysis to the requirements, focus our advanced resources on the customization and improvement of product to enable our products tally with customers' real requirement and create maximum profit for customers.
Remote Intelligent Monitoring System
According to customers' demand, our company can develop remote intelligent monitoring system which can realize remote monitoring and operation through Internet and send specific parameters and running state of equipment(such as alarm, output, purity and power consumption) to customers' mobile terminal device. Thereby, it can provide information basis for customers' intelligent manufacturing system.
Laboratory
Our company are committed to the R&D and promotion of air separation, off-gas recovery and natural gas liquefying, and established laboratory in 2005. It is equipped with experimental facilities of absorption, catalyzing, solution absorbing and cryogenic rectification. A professional team set up to do experiment and research to solve the design and research problems in the laboratory, which provides strong guarantee for the design and development of XLA's products.